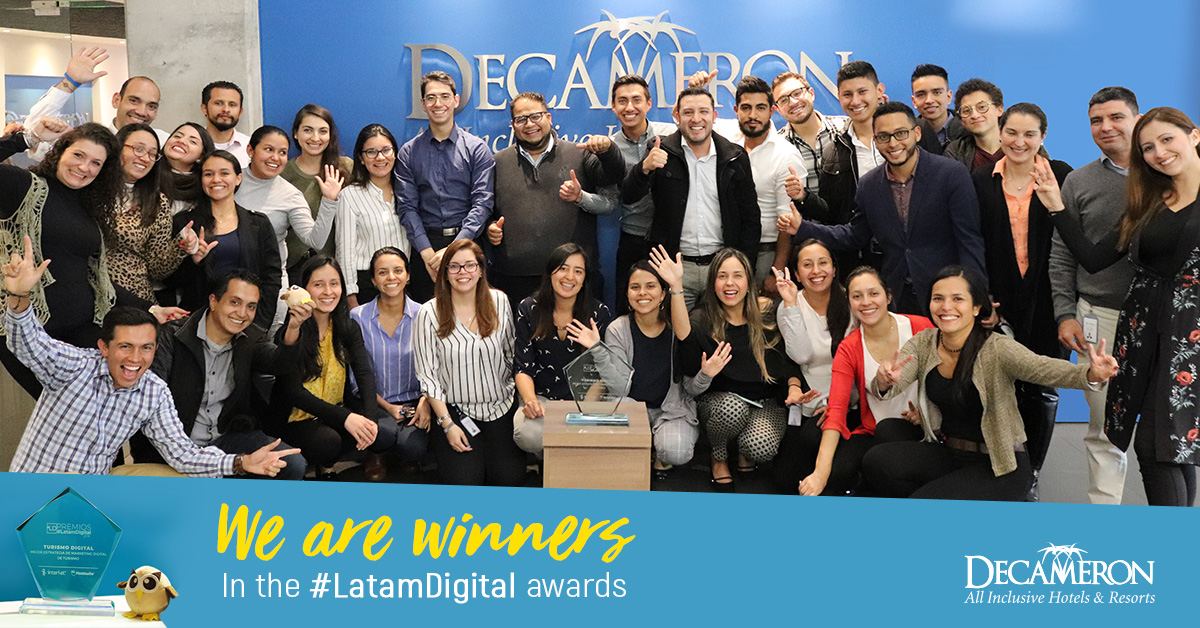 We are winners in the #LatamDigital awards in the Digital Tourism category!
Tuesday, August 28th, 2018
In the sixth edition of the #LatamDigital awards, we celebrate with great joy the recognition that has been given to us as 'Best Tourism Digital Marketing Strategy' in the Digital Tourism category for the 'HotSale Decameron' campaign.
Hotsale Decameron was an initiative in which increased positioning and participation of the digital tourism industry in Colombia was achieved, fostering a strong relationship with all the digital allies of the sector. It was carried out from March 1 to 4, 2018 with the support of the Colombian Chamber of Electronic Commerce, the Ministry of ICT and the National Police with its Virtual CAI. This synergy managed to have the Hotsale brand exclusively for an activity in the tourism sector for the first time. During the 4 days of this activity an average increase of 154% in sales was achieved compared to 2017 and a total of 10,442 rooms sold.
More than 670 companies whose efforts have an impact on the Latin American digital industry were nominated in this competition. After a pre-judging, a total of 150 finalists were completed in the following thematic pillars:
Digital Entrepreneurship
Electronic Commerce
Digital marketing
Social media
Digital Tourism
This initiative is led by the Latin American School of Businesses in Internet-Interlat in partnership with Hootsuite, the most recognized global platform for content management in social networks in the world; in its search for the construction of digital culture in Latin America.
The award ceremony was held last Friday, August 24 at the Club El Nogal in Bogotá with the assistance of the sponsors and finalists of this contest #ViajerosDecameron and their collaborators were part of this achievement! After our nomination as finalists, to the process were added the votes of the followers who enjoy our services and have allowed us to consolidate as the leading brand in tourism #TodoIncluido of the region during the last decades.
Currently, our organization has a community in social networks that totals more than 2,500,000 followers, who enjoy our content through our digital channels and who are part of this recognition.
This is one more achievement in our quest to offer the best digital and face-to-face experiences, because you #DeserveItAll.